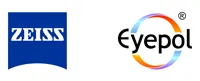 Lenses - The heart of glasses
For glasses, lenses are as important as the heart of humans, which must be stable and premium.
As the lenses are really important for a glasses, so we hope you'd better choose the quality lenses.
Below are our nominated supplier of lenses, which can be ordered by yourself or by us.
Zeiss: www.zeiss.com
Eyepol: www.eyepol.com
Below are our common colors for your reference.
(Due to the shooting angle, pictures for reference only)